We are frequently asked by our customers how they can find out their girlfriend's ring size without her knowing. Here are some of the tips and tricks we have learned throughout the years!
Purchase A Ring Sizer
A plastic ring sizer can easily help you measure your ring size at home. Plastic ring sizers shipped to the US will arrive within three to five business days.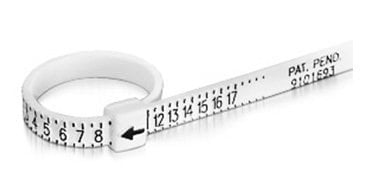 1. Borrow One of Her Rings
One of the easiest methods is to "borrow" one of her rings for a day. Grab a ring that she wears on a similarly sized finger, the ring finger of her right hand would be the best choice.  A ring she wears on her thumb or middle finger will be very different in size than the one she wears on her ring finger. It might be best to take in a few different rings from the jewelry box and have your jeweler get the average size.  If she does wears a specific ring on her ring finger use that one for measurement!  I suggest you trace out the ring on a piece of paper and bring that to the jeweler for sizing!)
2. Buy A Costume Jewelry Ring 
A great and creative way to get her ring size it to buy a costume jewelry ring. Huh? You read right. Buy a piece of costume jewelry and tell her you won it in a contest or giveaway,  a mall contest, or what other creative thing you can think of. Have your girlfriend slip it on and you will have an idea of her ring size. If it's too small then size up and if it's too big then size down. You can also gauge her ring style when she comments on the ring.
Now you've got the ring on her finger and you'll know if the size is right. If it's too snug or too loose, you know to change it by half a size or so.\
3. Ask Her Family and Friends
A great way to find out her ring size is to ask one of her friends or her mother/sister. Friends and definitely family (especially mom and sister) will be more than happy to help! If they don't know right away, they will easily find out. They will be another great way to find out her ring style. Make sure to ask them for help with that as well.
4. Get Crafty!
Ask your girlfriend in a very subtle and smooth way. You can pretend that you are going to buy a ring for your mom/sister/aunt (especially now that Mother's Day is coming up) and say the follow: Hey babe, I need your help. I need to buy my mom a gift and she wants a ring. You two have similar ring sizes, what's yours again? This way she feels like she has helped and you got her ring size. You could even take her to a local department store to "help" you pick out the ring and use her as a ring model. Use this trip to not only learn her ring size but her ring style.
5. Ask Your Partner!
Just be straightforward. If the above four tips do not work, ask her outright what her ring size is! If she is not sure, use our ring gauge as a way to verify the ring size: plastic ring sizer 
Bonus Tip:
 Try her ring onto your finger. It will likely be too small, but that's OK. Mark on your finger where the ring stops. Head over to the jeweler and let them measure the mark to determine the size of the ring you tried on.
Interesting Ring Size Facts:
The most common women's ring size is between 5 to 7.
Our dominant hands tend to be slightly bigger (so make sure you are measuring for her left!)
A wider ring has a tighter fit than thinner bands, so if you borrow a ring to measure, try to make sure that it is the same or similar band size as the ring you plan on purchasing.
Good luck! Need help with her ring size and ring style? Enlist Amour JNCY's bridal services to help you with the rest.
---